7. Meatloaf Nightmare
This is a really scary sight for anyone, even the cook. One wonders why would anyone think about making a baby out of food.
It looks as if the meatloaf baby is possessed.  Good luck taking this picture out of your mind.
8. Better Buy a Rice Cooker Next Time
It is really difficult to comprehend how someone can accomplish this kind of disaster.
One thing is for sure that there is something more than just rice which caused this hilarious mess.
9. Recipe: Souls of the Damned
Not everything goes as planned and this picture clearly indicates that the person who cooked these wasn't expecting to see souls of the damned.
One can say that it did go about 5% as planned. But hey, looks don't matter (or maybe they do in this case).
10. When You Cook in College
Cooking is not an easy thing to do, especially when you don't know the properties and functions of kitchen utensils.
This person thought that everything is made of steel and nothing would go wrong. Well, a mistake was made that day.
11. Pancake Goals
This picture does justice to the word "perfection". It turned out to be exactly as expected, right?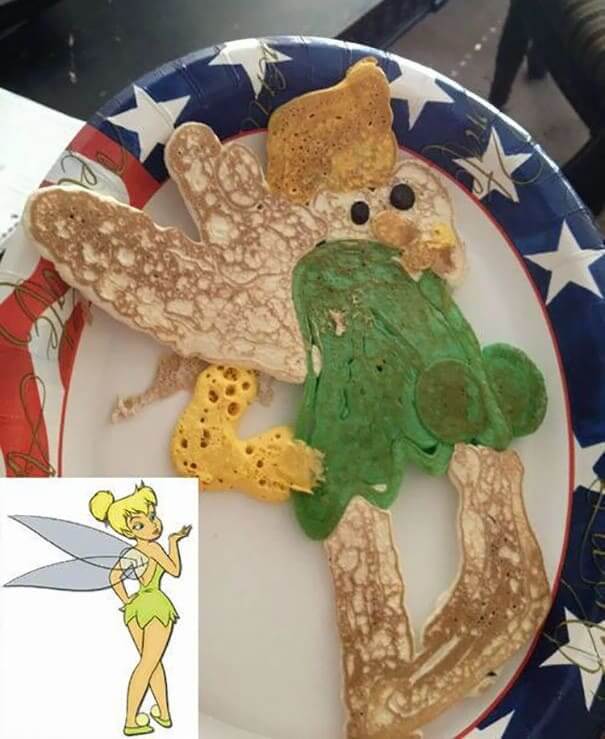 One can notice that the fairy is a big fan of Donald Trump and has his hair.
12. Turning Snowman into a Salamander
This woman was all ready to bake a good looking snowman. She had no idea that she was getting something really unexpected.
Some people may think it is a salamander or even an albino frog. Go wild with your imagination.